Utilization of Technology in Islamic Boarding Schools as a Community Empowerment Locomotive
Islamic boarding schools can play a major role in community empowerment efforts. With cultural capital, pesantren can change people's behavior towards a better life, including the use of technology. Realizing this great potential, the Institute for Research and Community Service (LPPM) of the Bandung Institute of Technology (ITB) seeks to encourage the use of technology in the pesantren environment.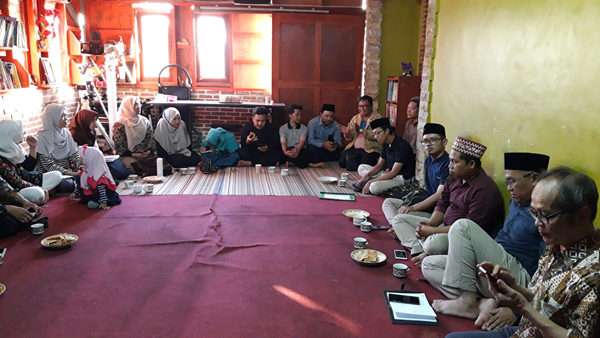 In collaboration with the Regional Board of the West Java Ansor Youth Movement, LPPM-ITB held online discussions and workshops on 6-10 July 2020. As many as 30 young kiai from a number of Islamic boarding schools in West Java participated in an activity with the theme "Development of Strategies for Utilizing Technology for Empowering Islamic Boarding Schools and the benefit of society" this. This workshop activity is a form of concern for ITB and PW GP Ansor West Java to expand pesantren activities in the future, especially in the field of science and technology. It is hoped that pesantren can develop in the fields of science and technology that can synergize with religious knowledge.
Nahdlatul Ulama intellectual who is a lecturer at Gent University Belgium, Dr. Ayang Utriza suggested that the use of technology in Islamic boarding schools should begin by building awareness of the importance of technology. "When the explanation of fiqh and aqidah, began to include science and technology," he explained. After the culture of science and technology exists in the internal environment, pesantren can become a facilitator to empower the businesses of the surrounding community. "At that time, we could add the Koranic activity on science and technology to be taught to students and congregations of the recitation," he added when explaining the topic "NU Intellectuality and Prospects of Technology Development".
Sin essence, according to the founder of STT Cipasung, Drs. Abdul Khobir, M.T. who conveyed "Synergy of Islamic Boarding School Values ​​and Science Technology", community development activities in Islamic boarding schools have been realized and initiated since the 1980s with the birth of the Islamic Boarding School and Community Development Association (P3M). At that time, the kiai already had the awareness to develop community activities, including the younger generation of kiai.
Moreover, pesantren is also expected to maximize the use of technology as a medium to stabilize social relations and expand the pesantren network in the mission of community empowerment. As a subculture, pesantren has cultural capital that can be used to change society towards a better life. "Technology can act as a mediator to stabilize social relations. Technology can be used to expand the pesantren network for the mission of community empowerment," said Dr. Agus S. Ekomadyo when presenting the material "Technology as a Mediator for Islamic Boarding Schools, Religiosity as Cultural Capital, for Community Empowerment".
The speaker of "Islamic boarding school and community development", Dr. Tubagus Furqon Sofhani assesses the need for changes to the pesantren curriculum. A santri not only has to master the yellow book, but also independence, both economic and political as well as the increasingly widespread use of technology. That way, he said, students and the surrounding community have a global perspective. "This is not easy for pesantren so that the network is strengthened," he said.
More than exploring the paradigm of using science, this workshop also featured best-practice, among others from the success of Masaro's Integrated Agricultural Concept and the application of science and technology at the Al Ittifak Islamic Boarding School, as well as the stages of practical use in the material on "Technology, Islamic Boarding School Culture". , and Agricultural Development in Rural Areas" conveyed by Dr. Djoko Sardjadi. "For Islamic boarding schools with agricultural and animal husbandry backgrounds, let's step together to help teach farming. Pesantren must be a model so that local residents can follow suit," said the resource person, Dr. Djoko Sardjadi while inviting the participants to start walking.
On the last day, the Chairman of LPIK ITB, Ir. Sigit P. Santosa, M.S.M.E., Sc.D., I.P.U. and Secretary of LPIK ITB, Rofiq Iqbal, S.T., M.Eng., Ph.D. invites participants to map innovation steps that can be taken, compose a business model canvas, and several examples of innovations, including the 'Sanita' domestic waste treatment. According to the Chairperson of the LPIK, the development of an Innovation-based Future Islamic Boarding School requires several important components. First, establishing priority innovation programs, namely digital system-based education, sharia economic system, and developing food, energy and water businesses. "An important component that also needs to be built is cooperation in implementing technological innovation with strategic partners, namely alumni, industry, the ummah, as well as building a boarding school innovation management institution that manages the implementation of future pesantren development," said Ir Sigit P. Santosa when filling out the topic "Opportunities". Innovation for Islamic Boarding School Development".
Chairman of PW GP Ansor West Java, K.H. Deni Ahmad Haedar agreed that pesantren should study science and technology outside of religious books. He hopes that pesantren can benefit and learn a lot from the ITB lecturers who attended this workshop. From this workshop, four clusters of technology utilization in the pesantren environment will be developed. The four clusters selected for the use of technology for the development of pesantren and the community are integrated agriculture, improvement of the Citarum River environment, the use of information and communication technology, and the development of a culture of science in pesantren.*