7th Joint Call for Proposals: Southeast Asia-Europe Joint Funding Scheme for Research and Innovation (JFS)
CALL FOR PROPOSALS DEADLINE: 15 OCTOBER 2021 | 12:00 (NOON) CEST
WHAT IS THE JFS?
The JFS brings together Southeast Asian and European researchers and innovators to collaborate on topics of mutual interest. The JFS funds bi-regional research and innovation projects.
Funding for research projects is provided by national, regional and local funding agencies from Southeast Asia and Europe. Each funding agency funds its own researchers according to their own rules.
The central management of the JFS is supported by the European Commission (EC).
The JFS works on the 2+1 principle. Proposals must have 2 partners from 2 different Southeast Asian countries and 1 European partner, or 2 partners from 2 different European countries and 1 Southeast Asian partner.
At least 1 partner from each region must be eligible for JFS funding. The coordinator must be selected from among the partners eligible for funding. The required third partner can be funded by a funding organization from a country participating in the JFS or bring their own funding.
THEMATIC AREAS:
1) Sustainable Food Production including nanotechnologies supporting sustainable food production
2) Climate Change: Resilience and Adaptation including social science and health aspects
FUNDING:
Funding can be used for the following:
Personnel costs
Mobility of scientists and experts
Equipment
Consumables
Indirect costs
WHO CAN APPLY?
Research proposals may be submitted by researchers from public research and higher education institutions from the following countries: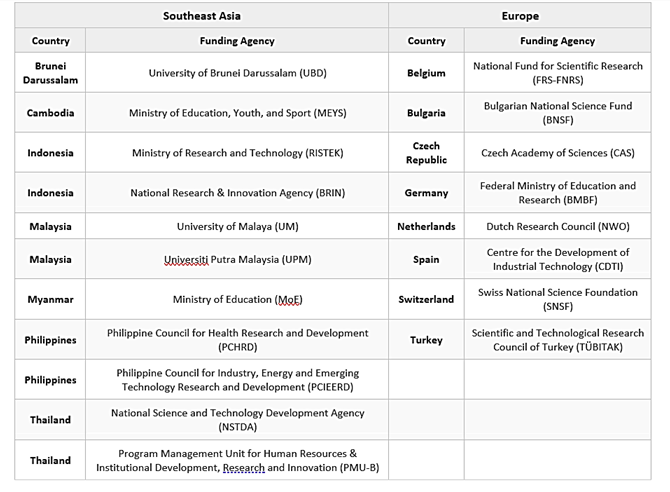 For more information, please visit https://www.sea-eu-jfs.eu/calls
Download :
INDONESIA_BRIN_National Regulations_7th Call JFS 2021_0